Are you a Christian woman? Love reading the Holy Bible?
Here we offer you the Bible designed especially for women, with violet frames, especially feminine to download on your phone or Android device.
If you are one of the women who do many things in the day, take the kids to school, go to work, shop, and feel that you do not have time to read the Word of God, here is a Bible that you can carry everywhere.
Download for free and easily on your phone and read it when you go on the bus, when you wait for a medical appointment or even when you are in the queue at the bank or supermarket. You do not need any Internet connection to use it.
Woman Bible is the Bible for the modern and feminine woman of today, who wants to have the Holy Word of God close to her.
Enjoy this artistic edition for moms and teen-girls. A creative Bible App to download and read wherever you go, through your mobile device. You will be able to download it and read it offline, without Internet connection.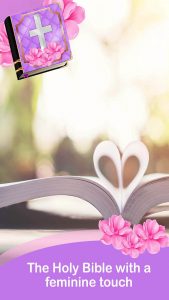 Features:
– Free download
– World English Bible version
– Bible offline, no Internet connection needed
– Beautiful coloring design made especially for women
– User-friendly interface
– Compatible for Android Phones and Tablets
– Complete Holy Bible with the Old and the New Testament
The Women's bible contains 66 books: 39 books in the Old Testament ( Genesis, Exodus, Leviticus, Numbers, Deuteronomy, Joshua, Judges, Ruth, 1 Samuel, 2 Samuel, 1 Kings, 2 Kings, 1 Chronicles, 2 Chronicles, Ezra, Nehemiah, Esther, Job, Psalms, Proverbs, Ecclesiastes, Song of Solomon, Isaiah, Jeremiah, Lamentations , Ezekiel, Daniel, Hosea, Joel, Amos, Obadiah, Jonah, Micah, Nahum, Habakkuk, Zephaniah, Haggai, Zechariah, Malachi ) and 27 books in the New Testament (Matthew, Mark, Luke, John, Acts, Romans, 1 Corinthians, 2 Corinthians, Galatians, Ephesians, Philippians, Colossians, 1 Thessalonians, 2 Thessalonians, 1 Timothy, 2 Timothy, Titus, Philemon, Hebrews, James, 1 Peter, 2 Peter, 1 John, 2 John, 3 John, Jude, Revelation)
The Bible made for you, woman.
You can read it whenever you want and wherever you want. You will spend beautiful moments reading your divine message, at home, in the street or at work. If you are married or single, young mother or grandmother, you will love to share the teachings with your children, grandchildren or loved ones.
Download Women's Bible on your mobile device freely. You will really love it!