We are glad to offer a Bible version created for American Jews that could not read the Bible in Hebrew.
Download freely on your phone or tablet this English version of the Tanakh: the JPS 1917, the renowned English translation of the Tanakh.
Though the terms "Bible" and "Old Testament" are used by non-Jews to describe Judaism's scriptures, the appropriate term is "Tanakh," which is derived as an acronym of the first Hebrew letter of each of the three great divisions of the Jewish text: Torah, Nevi'im and Ketuvim.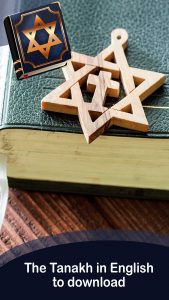 1- Torah or books of the law that includes the five books of the Torah, which, according to traditions, were revealed directly by God to Moses on Mount Sinai: Genesis, Exodus, Leviticus, Numbers and Deuteronomy.
2- Nevi'im (the book of the Prophets) that includes Isaiah, Jeremias, Ezekiel, the twelve Minor Prophets, Josue, Judges, 1 and 2 Samuel, 1 and 2 Kings.
3- Ketuvim (The writings) that includes the great book of poems, the Psalms and Proverbs, Joseph, Esther; Songs of Solomon, Ruth, Lamentations, Ecclesiastes, Daniel, Ezra, Nehemiah, 1 and 2 Chronicles.
Features of the application:
– Completely free
– User-friendly interface and nice design
– Bible app offline: You can absolutely read them without Wi-Fi service
– Compatible for Android Phones and Tablets
– English Version of the Tanakh: JPS 1917
– Ability to increase / decrease the font
Know the version that Jews consider the best English translation of the Judaism's scriptures. Download it now and have the God's Word on your phone.
https://play.google.com/store/apps/details?id=tanakh.english