We are glad to welcome you on our Bible offline: King James Bible Free
Today millions of people read, study and share the God's Word using a Bible app.
With this app, we want to help you to find and know God. Download it now, get a free Bible for your phone or tablet, and feed your soul every day with the Holy word of God.
This Bible app offers:
– Free Download
– Offline use (After you have downloaded the app to your device, this Bible works without Internet connection)
– Complete Holy Bible with the Old and the New Testament
– The most accurate and authentic English version of the Bible: King James Version
– Beautiful design and easy-to use interface
Download it now for free and enjoy the Word of God on your phone.
The King James Bible was published in 1611 with the approval and patronage of the King James I of England and this version of the Holy manuscripts was considered for many centuries "The English Bible", the most accurate and most sacred Bible.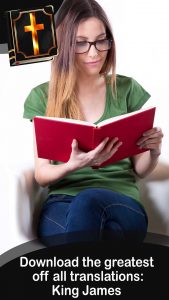 For that reason, a number of English translations have been written since the King James Version appeared.
All its reputation is deserved: the language and syntax of the KJV are majestic and give authority and originality. It had a great influence on the English literature and music.
Now you are able to obtain the Bible for free to have it very close, on your phone.
Here you have a list of the books of the Bible:
The Old Testament is composed of 39 books: Genesis, Exodus, Leviticus, Numbers, Deuteronomy, Joshua, Judges, Ruth, 1 Samuel, 2 Samuel, 1 Kings, 2 Kings, 1 Chronicles, 2 Chronicles, Ezra, Nehemiah, Esther, Job, Psalms, Proverbs, Ecclesiastes, Song of Solomon, Isaiah, Jeremiah, Lamentations, Ezekiel, Daniel, Hosea, Joel, Amos, Obadiah, Jonah, Micah, Nahum, Habakkuk, Zephaniah, Haggai, Zechariah, Malachi.
The New Testament is composed of 27 books: Matthew, Mark, Luke, John, Acts, Romans, Corinthians 1 and 2, Galatians, Ephesians, Philippians, Colossians, 1 Thessalonians, 2 Thessalonians, 1 Timothy, 2 Timothy, Titus, Philemon, Hebrews, James, 1 Peter, 2 Peter, 1 John, 2 John, 3 John, Jude, Revelation.