Today we are very glad to offer you the great book of Judaism, World Messianic Bible (WMB), the Jewish Bible to download freely on your phone or tablet Android.
Share, preach, teach, use this Bible as much as you want. This is a perfect Jewish study Bible, a useful tool to read and learn the Holy Word with Hebrew names.
Best of all, once you have installed the app in your device, you can read the Bible offline, you don't need any Internet connection.
The World Messianic Bible has also been known as the Hebrew Names Version (HNV) and the World English Bible: Messianic Edition (WEB:ME). It was created from the World English Bible mostly by replacing Hebrew forms of names for Greek forms.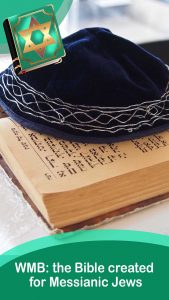 Enjoy the entire Jewish Bible in English available for free downloading and reading.
The Bible is composed by the Old and the New Testament:
Old Testament: Genesis, Exodus, Leviticus, Numbers, Deuteronomy, Joshua, Judges, Ruth, 1 Samuel, 2 Samuel, 1 Kings, 2 Kings, 1 Chronicles, 2 Chronicles, Ezra, Nehemiah, Esther, Job, Psalms, Proverbs, Ecclesiastes, Song of Solomon, Isaiah, Jeremiah, Lamentations, Ezekiel, Daniel, Hosea, Joel, Amos, Obadiah, Jonah, Micah, Nahum, Habakkuk, Zephaniah, Haggai, Zechariah, Malachi.
New Testament: Matthew, Mark, Luke, John, Acts, Romans, Corinthians 1 and 2, Galatians, Ephesians, Philippians, Colossians, 1 Thessalonians, 2 Thessalonians, 1 Timothy, 2 Timothy, Titus, Philemon, Hebrews, James, 1 Peter, 2 Peter, 1 John, 2 John, 3 John, Jude, Revelation.